Tube industry – How to stay
competitive in difficult times
Welcome to our IToA cnference website which includes all relevant information.
We will regularly update this platform so that you do not miss any news.
As Tube industry is currently in difficult times our main focus will be how to stay competitive in this situation.
Market overviews of pipe and tube sectors
Presentations by producers and equipment suppliers
Latest technological developments
Optional plant tours
Table top exhibits
Excellent networking opportunities incl. networking evening event
Reduced fees for early bookers, ITA members and students
Concurrent wire conference and table top exhibition
World class venue in the spiritual home of Tube
Special room rates at nearby hotels (subject to availability)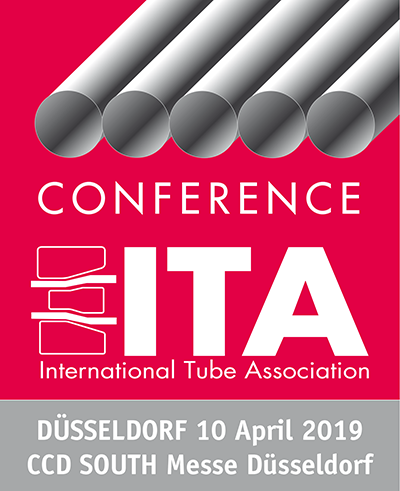 Organised by International Tube Association in cooperation with Cabwire 2017 world technical conference, by the leading wire and cable industry associations.
Our colleagues and members will agree, the best way to drive an industry forward is to share: progress, experiences, successes and new developments. In early November, after months of preparation, we invited colleagues from the tube and pipe sector to get together in Düsseldorf for the ITA Conference 2017.
The theme for the two-day Conference, from 7-8 November 2017, was How To Stay Competitive In Difficult Times. We were delighted to play host, here at Messe Düsseldorf, to close on 100 visitors; and with 16 exhibitors in the tube sector and a number of companies exhibiting in the concurrent wire event, the two days saw an exciting buzz of activity and networking.
The ITA would like to thank all of you that participated in this momentous event since it was your presence that helped to make it the success that it undoubtedly was.
Many ITA members took the opportunity to showcase their company and their work with a foyer exhibition, which also provided a marvelous forum for networking and talking shop.
We were delighted to see so many colleagues willing to share their expertise in presentations. There were an amazing 16 papers on such topics as Spiral Pipe Plants In New Dimensions, Reliable Ultrasonic Tube Testing and the Russian Steel Pipe and Tube Market in 2017- 2018.
We would also like to pass on our thanks – and yours – to staff and colleagues at Vallourec in Düsseldorf and Europipe in Mülheim for hosting the plant tours, both of which were highly popular. And a Rhine riverboat tour with a dinner and drinks onboard provided a social setting which – we hope – cemented not just business contacts but also friendships.
All told, we enjoyed it so much we would like to do it again. The date for the next ITA Conference will be posted here on the website, or in order to be kept in the loop, members and colleagues can sign up for our newsletter or just drop us a line at info@itatube.org.
Follow us on social media for updates; links to our Twitter, Facebook, LinkedIn and Google+ profiles are at the bottom of every website page.
If you want to give feedback about the conference, or share other comments or queries, just get in touch via the email address above or the contact form, via 'Contact' at the bottom of the page.
We are always happy to hear from you.